Parfumair
The Parfumair scent sticks and fragrance pearls from SCANPART spread a pleasant fragrance while vacuuming and provide a fresh scent in your home. The scent sticks and fragrance pearls mask the unpleasant odour of blown dust and ensure that the vacuum cleaner exhaust air smells lovely and fresh.

Scent sticks
Add a new scent stick directly into the new bag every time you replace your dust bag.
TIP: only open the individual packaging of one stick to preserve the fragrance quality of the other sticks.

The Parfumair scent sticks are available in three different fragrances; lavender and vanilla.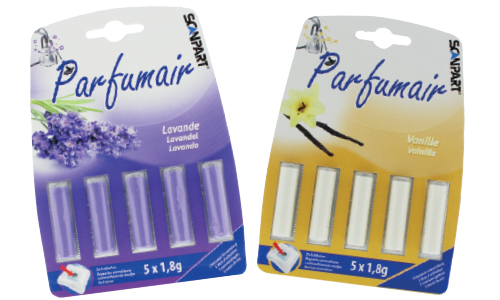 Fragrance pearls
The smell of the fragrance pearls remains active for the life of your vacuum cleaner bag. Pour the fragrance pearls directly into the dust bag/dust chamber or sprinkle them on the floor and vacuum them. The fragrance pearls from SCANPART are also ideal for bag less vacuum cleaners.

The Parfumair fragrance pearls are available in two different fragrances; lavender and summer meadow.