The high quality alternative for your Miele vacuum cleaner: CleanBag Professional!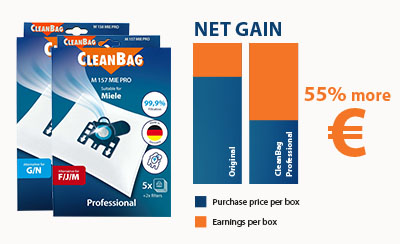 Since September 2017 regulations stipulate that the power of a new vacuum cleaner may not exceed 900 Watts. However, the suction power is not only determined by the power of the vacuum cleaner. A number of other things, such as the brush, replacing the filters on time and the type of vacuum cleaner bag also determines proper functioning. Are you looking for a vacuum cleaner bag for your vacuum cleaner? We have now developed the CleanBag Professional bags as a high-quality alternative to for original dust bags.
The alternative for F/J/M & G/N dust bags: CleanBag Professional
That the CleanBag Professional dust bags are high-quality alternatives to original dust bags is shown by the hygienic filtration: a unique combination of 5 different layers provide a filter degree of no less than 99.9%. Ideal for allergy sufferers. The hygienic seal ensures that vacuumed dust does not escape when replacing and disposing of the bag, and that the power of the vacuum cleaner is not reduced. In addition, it prevents the backlash of dust into the dust bag compartment for a longer life of the vacuum cleaner.
Optimal suction power with CleanBag Professional dust bags
The vacuumed dust is absorbed without clogging the pores. This ensures that the suction power of your vacuum cleaner remains optimal for longer and therefore more dust in the bag can be aspirated. As a result, one bag will last longer and needs to be replaced less often. The quality of the CleanBag Professional dust bags has been tested by the independent test institute TÜV.
Want to buy a CleanBag vacuum cleaner bag?
The CleanBag Professional dust bags are our alternative solution for original vacuum cleaner bags and are exclusively available through the Elka Pieterman Group. Interested in these vacuum cleaner bags? Contact us!